Industry leading real-time report generator specifically designed for industrial automation requirements.
The Art of Industrial Intelligence
Dream ReportTM enables easy connectivity to automation systems and equipment (e.g. in buildings, factories, etc.), through over 60 different data interface drivers to both open and proprietary protocols. Dream Report collects and archives real-time information and accesses open or proprietary archives and databases, generating professional reports on schedule, on event or manually, then publishing and e-distributing those reports. The solution delivers Web-based reports management over the internet and intranet via integrated web portal, enabling users to access generated reports, generate new reports and build web-based interactive dynamic dashboards in minutes. An intuitive and easy user interface allows fast project development and project maintenance with low engineering costs. A Secure web portal enables access to important information for anyone at any place and any time.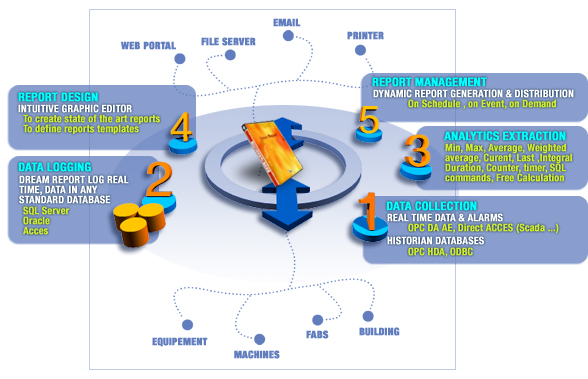 Key Functions
1. Data Collection
Dream Report integrates a robust communication kernel to collect data and alarms from multiple real-time and historian sources. It uses OPC, OLE and ODBC standards to connect and collect Data from different suppliers. Moreover, ODS develops custom drivers to leverage native history from SCADA systems, DCS, RTU and more.
2. Data Logging
Dream Report integrates a powerful historian module to log clean and accurate data in any standard database such as SQL Server, Oracle, MySQL, Access. This unique feature position Dream Report not only as a reporting tool but also as the ideal solution for field Data integration for enterprise applications.
3. Data Extraction & Analysis
Dream Report integrates a user-friendly object library to extract Data statistics and analysis to be displayed in multiple views like tables, Bars, Pies, Charts and more.
4. Report Design
Dream Report's studio integrates an intuitive graphical editor to create and save state of the art reports as templates.
5. Report Generation & Distribution
Dream Report enables to generate reports manually and automatically. The automatic mode enables to execute report on event and on schedule. When ready, reports can be automatically printed, emailed, stored and published over the web.