PowerNet reduces their number of nuisance alarms by over 50% in just a few months from installing AlarmWatch.
Daniel Wijkstra, Operations Systems Manager at PowerNet faces a common problem for SCADA system managers: The Operators deal with too many alarms in their day-to-day and PowerNet's alarm system design no longer meets the needs of their current business operations or aligns with industry best practice.
"I was aware the Operators had too many alarms, however knowing where to start and having spare engineering resources to send to each site to investigate can be difcult. AlarmWatch has given me the ability to quickly identify and fix the main problem areas, and track progress – while using minimal resources and time. In just a few months of installing AlarmWatch, we have saved at least 2 months of an engineer's salary and decreased the number of nuisance alarms by over 50%" - Daniel Wijkstra, Operations Systems Manager, PowerNet
---
The Problem
PowerNet Limited is an electricity distribution company, delivering power to 71,700 homes and businesses across southern New Zealand.
PowerNet's infrastructure, systems, processes and people have changed and developed over time. However, their alarm system has remained largely unchecked since initial implementation, growing organically with the addition of new technology, sites and systems.This is a common issue across many business types that nevertheless rely on alarms to operate and manage their automation systems. Business growth, combined with limited internal resources, staff turnover and the fact that industry safety and alarm implementation guidelines have evolved, means that more often than not operators become inundated with 'nuisance' alarms, alarm systems are less effective and there is a signifcant gap between system design and industry best practice (for example ISA 18.2 or IEC-62682).
A high volume of nuisance alarms such as chattering or fleeting alarms cause alarm floods, which can be overwhelming and distracting for operators – meaning important alarms may be ignored, operators are more stressed, and their daily tasks and reporting can be unnecessarily tedious. This reduces an operator's situational awareness and their ability to make quality decisions and respond effectively – impacting their overall performance. At a system level, an ineffective alarm system causes operational inefficiencies, and can result in reduced productivity yields, increased downtime and increased safety risks.
Daniel was aware the Operators were facing too many alarms. However resource limitations and a geographically spread system made it challenging to implement an effective alarm review project.
---
The Solution
PowerNet uses GE Digital iFIX with an unlimited SCADA license, monitoring over 20,000 telemetered data points. PowerNet is also a long-term customer of Catapult Software. Aware of PowerNet's challenges, Catapult introduced them to AlarmWatch – An interactive analytics and reporting dashboard for alarm management. AlarmWatch is a new product, released in 2020. It is designed for iFIX SCADA managers to meet section 16, ISA 18.2 alarm requirements. It is a modern alarm management solution that is quick to implement, easy to use, reliable and secure.
AlarmWatch was implemented in PowerNet early in 2020. Within the frst 2-3 months Daniel easily identifed the high-impact problem alarms or 'bad actors'. This enabled him to precisely focus his efforts and limited engineering resources on the biggest issues. His team uncovered maintenance needs for old or faulty equipment, plus problems with alarm thresholds and system set-up (alarm rationalization). The net result was fast, cost-effective and valuable improvements to PowerNet's whole alarm system. Daniel frequently used the custom date ranges on the AlarmWatch dashboard (data automatically updated daily) to see if his actions were successful in reducing alarm issues.
---
The Results
The first three months following installation:
Chattering Alarms ↓ 50%
Stale Alarms ↓ 68%
Operator alarm load ↓ 30%
Percentage of time PowerNet's alarm system is in flood condition ↓ by 58%
Maximum number of alarms (per 10minutes) ↓ 60%
Signifcantly reduced 'High' priority alarms triggered, as recommended by ISA 18.2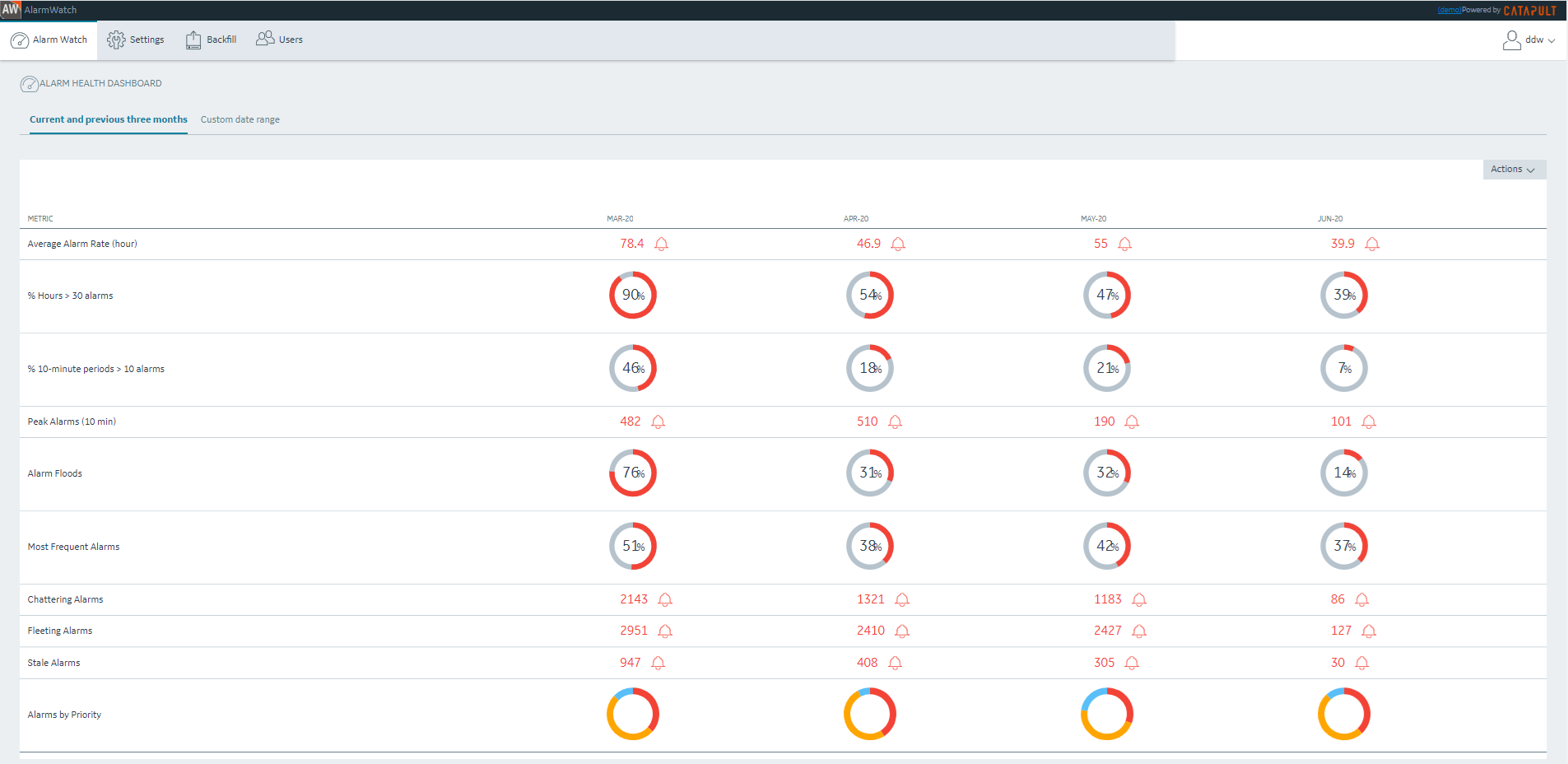 ---
AlarmWatch is an easy to use, cost-effective and quality solution for PowerNet's alarm management needs. It has signifcantly improved PowerNet's alarm system health and operational performance by providing their Operations Systems Manager with accurate andreadily available alarm analytics. AlarmWatch enables PowerNet to move closer to their goal of having a productive and meaningful (rationalized) alarm system. Within a few months, AlarmWatch has already provided a signifcant return on investment for PowerNet and is now a key part oftheir routine SCADA system checks, providing them with a framework on where they can focus their resources, as well as continuous improvement initiatives. Standards compliance gives them the security that their Operators are looked after, and minimises risk. AlarmWatch will continue to be a valuable tool for PowerNet to improve their systems, operations and overall safety and productivity.
Customer Summary
| | |
| --- | --- |
| Location | New Zealand |
| Customers | 71,000 |
| Total I/O | 22,000 |
| Software | Redundant iFIX pair by GE Digital |
| Alarm points | 16,000 |