Your Digital Transformation Journey Starts Here
In simple terms, digital transformation is about utilising data and analytics to create a "digital twin" of key processes and physical assets. This digital foundation enables a company to drive down costs while delivering consistent quality.
It also enables the company to run a "digital thread" through the design, build, and service functions—using analytic intelligence to create a virtuous loop that delivers continuous improvements to equipment and processes. This enables industrial companies to rapidly refactor operations, improve existing offerings, support critical decisions with meaningful data, and innovate with new outcome-based business models.
Catapult has partnered with GE Digital to help organisations successfully define and implement change through technology. A wide range of customers covering industries such as industrial, manufacturing and transport are exploring how they can use technology and data analytics to reduce costs and optimise their assets and operations.
The foundational digital industrial components emerged in the 1990s: industrial control software (HMI/SCADA), manufacturing software (MES), and asset management software (APM). These technologies are common in industrial environments. They deliver important capabilities that are necessary, but not sufficient, for digital industrial transformation. Up until the last 10 years, it was cost -prohibitive for many industrial companies to fully digitise and analyse their operations. Full digital transformation—with comprehensive digital twins and a complete digital thread— has been made possible by low-cost innovations.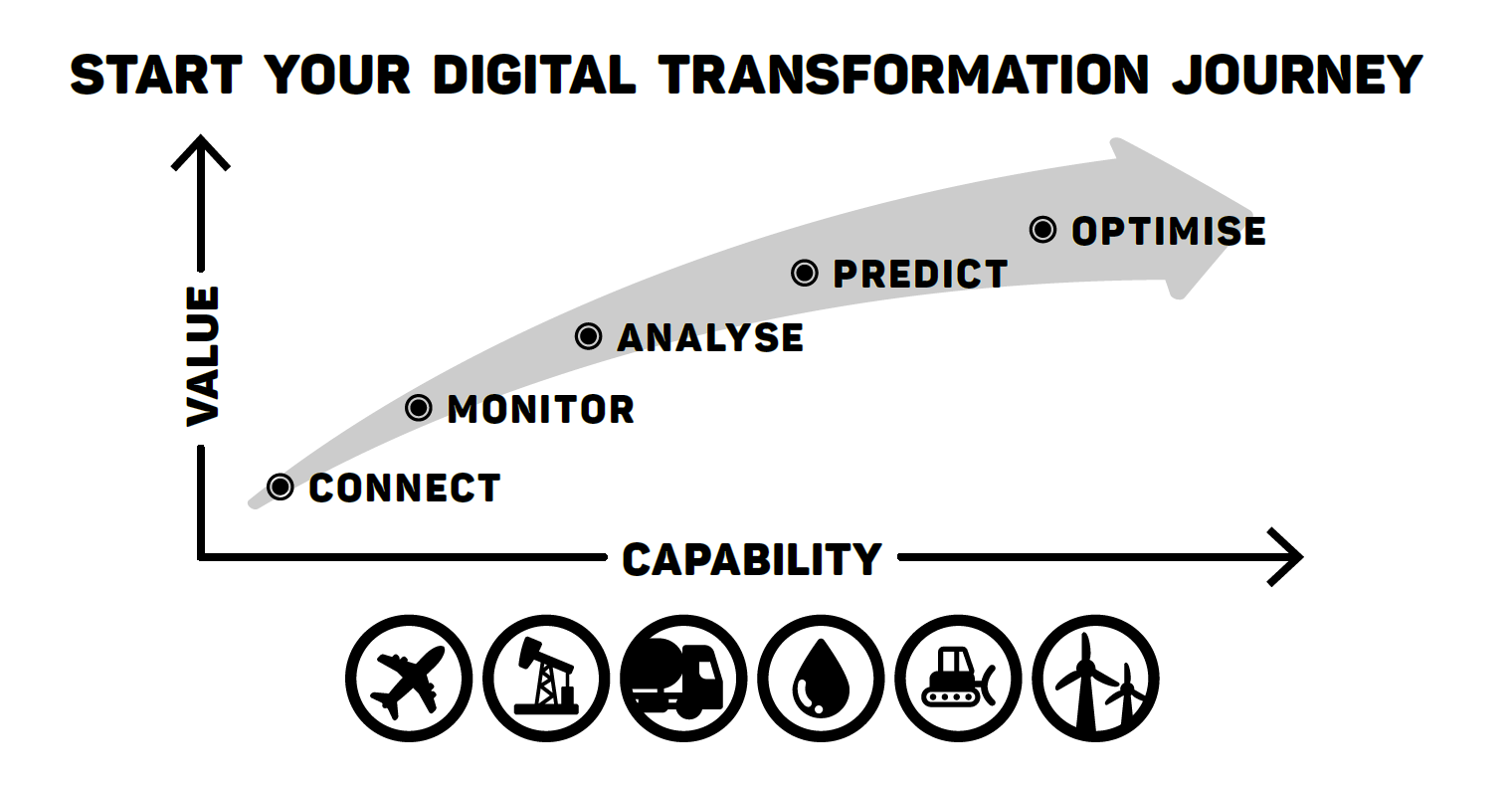 This diagram illustrates a common path for digital industrial transformation. Connecting to smart devices and monitoring them from a SCADA or HMI solution enables automation. Collecting and analysing data from these devices is often facilitated through a Historian and reporting solution. Being able to predict issues or maintenance needs and optimise your production are some of the ultimate outcomes for Digital Transformation.
This journey towards digital transformation is illustrated above. Collecting and storing data from your assets is a common technology practice in today's manufacturing and industrial environments. However, simply retrieving this data doesn't immediately result in the ability to effectively use it to drive efficiency and transformation. To achieve this GE Digital provides a portfolio of solutions that enable you to visualise your data, gain insights and finally begin to analyse operations, predict problems and ultimately find ways to optimise your assets, human resources and processes. Catapult and GE Digital can guide your business based on this data analysis and digital transformation journey.
This email address is being protected from spambots. You need JavaScript enabled to view it. about what you want to achieve through Digital Transformation. What outcomes or goals are you seeking? What technology or equipment considerations do you have? We can provide the technical expertise and analytical best practices to help you understand what is achievable for your business and define the journey for your company. This is a collaboration. We want to listen to your needs and concerns and work with you to build your data analytics capabilities and help you transform your business at a pace and budget that works best for you.
Digital Transformation Solutions
Consultation, Business Intelligence and Engineering Services - Digital Transformation is complex. It takes a lot to implement meaningful change across culture, people, process and technology. Catapult has extensive experience with industrial equipment, engineering and operations. We have partnered with GE Digital to bring a range of class-leading digital transformation solutions to the New Zealand market. We also partner with recognised experts in data analytics and industry best practices across the global GE Digital partner network. This enables Catapult to not only quickly understand your business, but appreciate your requirements and guide you around the complexities of Digital Transformation with lessons learnt from industry peers around the globe.
Predix from GE Digital - Predix, the operating system for the Industrial Internet, is powering digital industrial businesses that drive the global economy. By connecting industrial equipment, analysing data, and delivering real-time insights, Predix-based apps are unleashing new levels of performance of both GE and non-GE assets.
Plant Applications from GE Digital - GE Plant Applications automates and integrates the information-related activities for managing production execution and performance optimisation holistically, helping you balance the tradeoffs across the many competing priorities of production operations.
GE Historian - Bringing islands of disparate data together and providing contextualised asset performance insights, Historian is the foundation to extend asset life expectancy and keep plants running at peak efficiency - uncovering cost reduction opportunities.
GE Historian Analysis - Historian Analysis is a web-based tool for trending and analysis of process data, alarms and events from GE Historian.
Dream Reports - Implement scheduled reports which are automatically generated with your stored criteria at intervals that you define or on-demand. Deliver reports directly to stakeholders in a range of formats including PDF, HTML and email.